The WiFirebox
Need WiFi in a Firebox? No problem. You just need a PCIe to miniPCIe adapter, a PCIe flex adapter, and a Wifi card (preferably one that supports AP mode of course).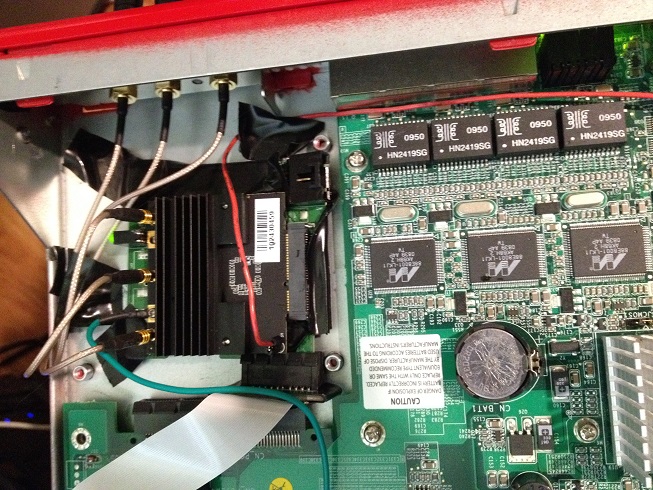 Now, I made the mistake of trying to do this with the WLE900V5-27 as pictured. It's a great card if you can get it to work, but barely worth the hassle. The card uses external ground and 5v connections, and it's massive. The two problems that the card's size presents are that you need a miniPCIe adapter with enough space around the slot (I used the MP2W), and you have to deal with the huge RF shield on the bottom of the card too. The RF shield means that not only can there not be any components on the board below, but you'll also have to tape over anything possibly conductive. I used the MP2W adapter, which came with some capacitors which were in the way of the card. Fortunately, they weren't necessary for the adapter to function so removing them was safe. Unfortunately, I missed a part that needed to be insulated the first time around, so one of the FFC cables let some magic smoke out and I had to switch to the other one. Nothing else was damaged so everything worked fine once I fixed the insulation issue.
On top of that, the card uses MMCX connectors, so you'll have to get different pigtails as well. As for actually mounting the pigtails/antennas, the easiest way is to take the PCI bracket the adapter comes with, take the pieces that hold the card to the bracket, and bend them so that they're parallel with the rest of the bracket. Then, you can secure it in place with whatever means necessary.